MarketBank & Financial Profiles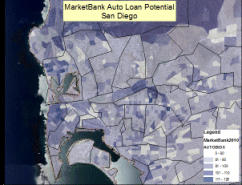 RPM MarketBank™
databases identify the real demand and potential for new retail banking, lending and investment business among both existing customers and prospects. They are used to identify demand and potential in branch trade areas and sales regions, and to score customer and prospect lists. 
Financial Profiles for Tapestry™ is based on ESRI's Tapestry lifestyle segmentation system, and classifies American households into one of 65 financial and lifestyle segments, nested within 12 broad Financial Lifestyle categories, and 11 degrees of Urbanization and defines their demand and potential for each savings, loan and investment product.
BranchInfo & Greenlines
BranchInfo™ is an historical database of every bank branch location in the United States, containing branch level information matched by institution and site, across a five-year timeframe. 
This allows analysts to focus on current office locations, and also have the capability to trace and project the development and ownership of branches over time.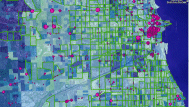 Greenlines™ showcases minority and low to moderate income neighborhoods throughout the U.S.  They allow institutions to review their opportunities with respect to fair lending complaince and tax incentive areas, and are based upon definitions of these neighborhoods supplied by the Department of Housing and Urban Development (HUD) and the Community Development Fund of Financial Institutions (CDFI), with digital local incentive geographies provided by Tax Technology Research.